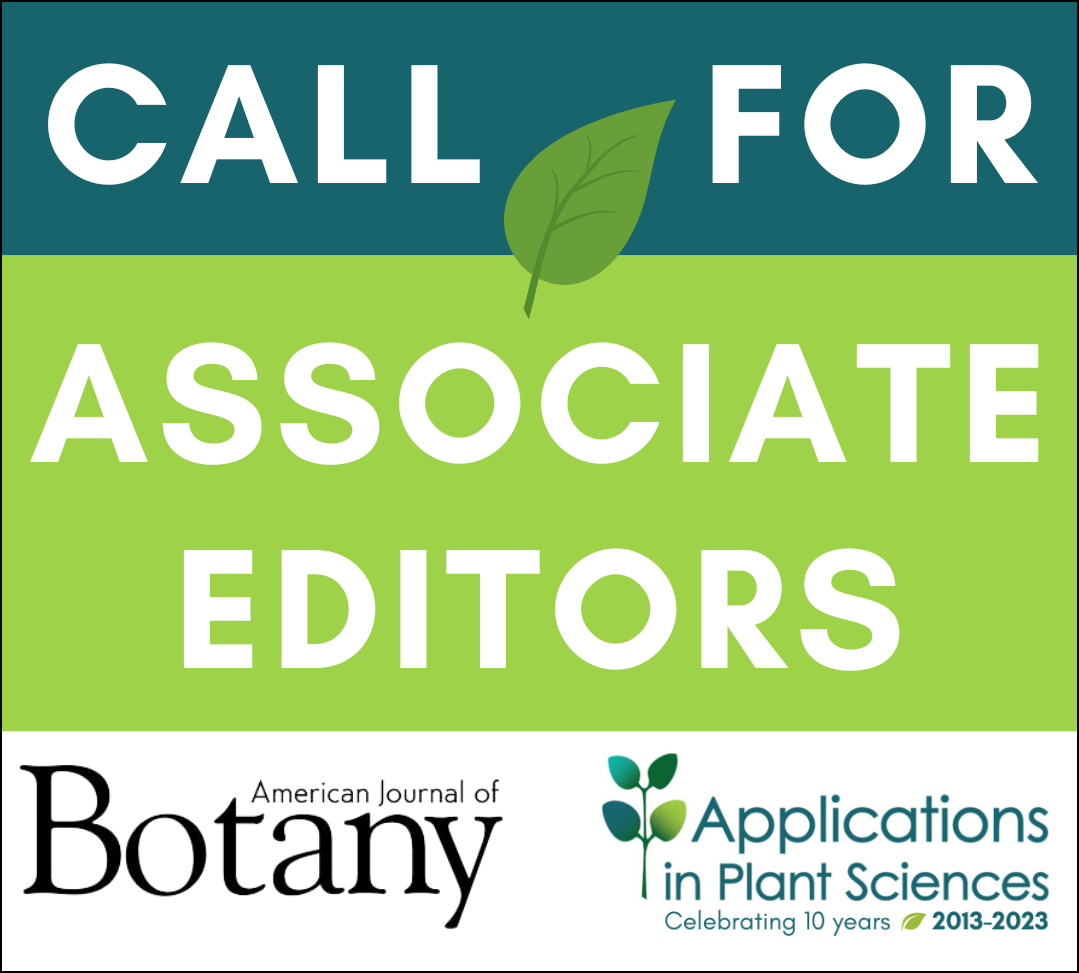 The Botanical Society of America is looking for botanists actively engaged in research to join the Editorial Boards of the American Journal of Botany and Applications in Plant Sciences.
At the Botanical Society of America, we value the benefits that diversity brings. We are holding this open call to help improve the diversity of our editorial boards and strongly encourage applicants from underrepresented groups and regions to apply.
The start date for the role is early November with flexibility to take up the position as it suits the applicant's current commitments.

Selection criteria:
An active researcher with a PhD in a field relevant to the journal scope
Evidence of an active and relevant publication record for current career stage
Expertise in relevant subject areas within the scope of the journal
Experience reviewing journal submissions
Although previous editorial experience is desirable, we encourage applications from researchers at any stage of their career, even if they have not previously worked as an associate editor or editor.
Both journals are supported by professional editorial office staff and offer flexibility and planned absences due to parental leave, prolonged field work, or other personal commitments.
Key responsibilities:
Making initial assessments of the suitability of manuscripts
Selecting appropriate peer reviewers
Writing synthetic decision statements and making recommendations to the Editor-in-Chief on the basis of reviews received and your own professional opinion
Handling all aspects of the review process in a timely manner
Assisting editorial team to identify papers for further promotion
Contributing to initiatives such as journal-specific and cross-journal special issues.
Acting as an ambassador for the journal at conferences and engaging with the journal through social media, as appropriate
Each journal is seeking subject experts in different topics, as listed below:
AJB: All subject areas.
APPS: Artificial intelligence, imaging, ecology, machine learning, physiology, software development, statistics; experts in other subject areas are welcome to apply.
Associate Editors for AJB typically handle between 5 and 15 original submissions per year, and Associate Editors for APPS typically handle between 2 and 6 original submissions per year. Manuscript number depends on the submissions received within a subject area, AE capacity, and absences agreed with the journal, with an expectation to handle papers in a timely manner.
The Associate Editor role is voluntary. Associate Editor performance will be assessed after a year of service to ensure that the AE can perform the key responsibilities required by the role.
Associate Editors receive complimentary annual membership to the Botanical Society of America during their tenure. Full details of BSA membership benefits can be found here.
To apply, please complete the form at https://committees.botany.org/awards/award/open-call-for-associate-editors.
You will be asked to upload a CV, and provide a brief (no more than 2 pages) letter that
Describes your interest in this position;
Includes 5 keywords that describe your area(s) of expertise;
Includes an estimate of the number of papers you review per year, or the total number of papers you have reviewed (experience as a reviewer is required for this position); and
Includes a brief description of your experience as an Editor or Associate Editor with another journal (not required), or whether you have not served as an Editor or AE for another journal.
Application deadline: Sep 30, 2023

If you have any questions or would like to make an informal enquiry, please contact: Amy McPherson, BSA Director of Publications, ajb@botany.org.