Nicholas J. Engle-Wrye
Graduate Student
Department of Biological Sciences
Mississippi State University
Posted 12-9-21

Twitter Handle: @WryeEngle
Nicholas's primary research interests are in plant systematics, functional biogeography, and phenomics. More specifically, he is interested in how plant phenotypes drive patterns of evolution and can help us to more perceptively understand evolutionary processes. Nicholas is currently investigating the role of conserved floral scent as a driver of hybridization between Heuchera americana and Heuchera richardsonii. In pursuit of this inquiry, he is also working to resolve the polyphyletic Heuchera americana as at least two cryptic species using phylogenomic, morphometric, phylogeographic, and chemotaxonomic techniques.

How Nicholas got interested in the botanical sciences:
I was first introduced to, and became interested in, botany for practical reasons. I was raised in a family of carpenters while surrounded by neighbors who were farmers. From a young age I was put to work helping with carpentry and various tasks our aging neighbors needed help with. When working with my family, I was taught about the properties of wood from several tree species that made them suitable for different applications and how to choose them accordingly. I was then introduced to how I should work these different media while paying attention to variables such as heartwood vs. sapwood, moisture content, grain structure, etc. Likewise, when I would help my farming neighbors, they would introduce me to new plants and how to use them. Learning about all the different plants, the characteristics that made them useful, and how to take advantage of these characteristics in the most expansive and least wasteful way, was the spark that initiated my interest in botany. I continued to worked construction for many years, but I had a drive to make a career out of learning more about plants and their characteristics, so I chose to go back to school.

I wasn't exactly sure how to make a career of understanding plant characteristics, but I figured pursuing botany would be a good start. In this pursuit I eventually learned that these "characteristics" were called phenotypes and that I wasn't only interested in the phenotypes themselves, I was interested in how they came about in the first place. I was also introduced to the many fields that botany and biology had to offer, that otherwise wouldn't have been household terms for me, such as systematics, phylogeography, phenomics, chemotaxonomy, etc. I then knew that there was, in fact, a path forward for a career in trying to understand plants and that I had to continue down this path. Thankfully, I have had the good fortune of meeting many helpful people along this path and the opportunity to continue my education at Mississippi State University.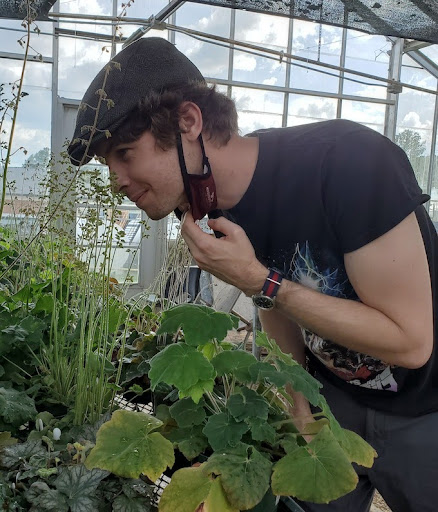 Nicholas' advice for those just starting their botanical journey:
"Reach out to the people doing something similar to whatever it is you're interested in and be open minded to the opportunities that may be presented."
Nicholas enjoys spending time in the woods, cooking food, blacksmithing, and experimenting with ever changing hobby rabbit holes.
Click here to return to BSA Spotlight Series homepage.