Matias Köhler
Postdoctoral Fellow
São Carlos University (UFSCar), São Paulo, Brazil
Biology Department
Posted 5-22-23

Twitter, Instragram and Facebook: @tunasdelsur
Website: https://mkacto.weebly.com/
ResearchGate: https://www.researchgate.net/profile/Matias-Koehler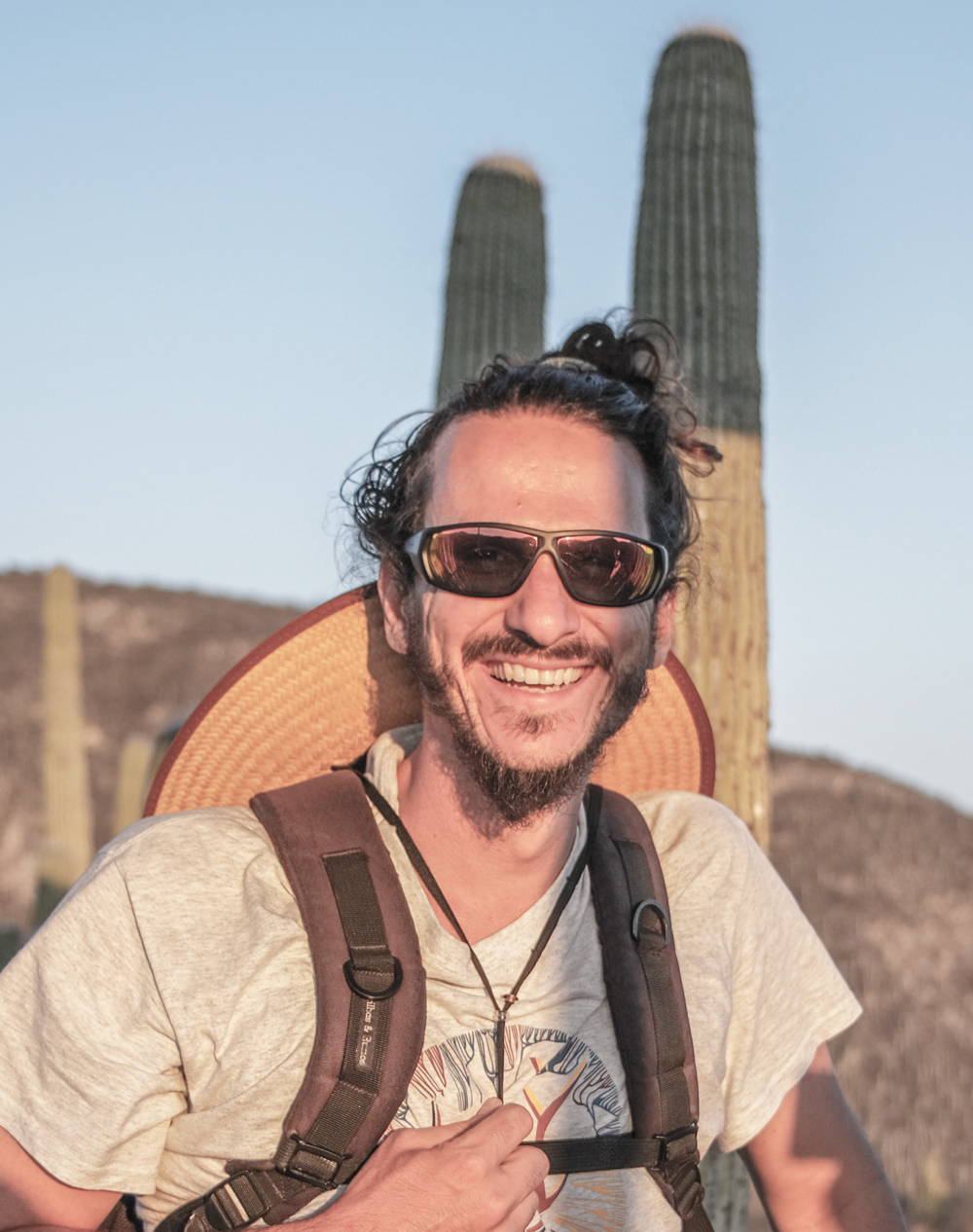 I am broadly interested in plant diversity - the many aspects related to their names (taxonomy), relationships (phylogenetic systematics), evolution, their underlying diversification history, economic uses, and conservation. My first group of interest integrating all these aspects was the prickly pear cacti (Opuntia spp.). When I was collaborating on an inventory of the indigenous fruits of the flora of Rio Grande do Sul during my baccalaureate, I realized that we did not have enough information to identify the Opuntia species of our state. So, I started to visualize a way in which I could collaborate with the botanical knowledge for my community. I could hardly imagine that it would transform my life, turning into a PhD project, which would carry me to know prickly pears (and other plants too!) around other six countries, opening questions that I am still really excited to address! I have received the support of many other prickly pear specialists around the Americas, such as Luis J. Oakley (Universidad Nacional de Rosário, Argentina), Fabián Font (Universidad de Buenos Aires, Argentina), Raúl Puente (Desert Botanical Garden, AZ, USA), and especially by Dr. Lucas Majure (Florida Museum of Natural History, FL, USA), who received me in their labs and trained me in many aspects of plant systematics and botany.
In my PhD, I integrated genomic and field data to address aspects of the taxonomy, systematics, and evolution of the prickly pears, with a special focus in the southern South American species. With the collaboration of Dr. Majure, I've expanded my work to the tribe Opuntieae and subfamily Opuntioideae, helping elucidate aspects of their biogeographical origins, morphological evolution, adaptations, and patterns of diversification. After my PhD, I had a short one-year period as postdoc with Dr. Marcelo Reginato at the Rio Grande do Sul University (UFRGS, RS, Brazil), developing analyses I had started in my PhD, and collaborating on other projects dealing with the origins of the flora of the southern subtropical/temperate grasslands, the Pampa or Rio de La Plata grasslands.
Currently, I am expanding my knowledge in plant diversity by doing a lot of fieldwork in the Northeast and Central-west regions of Brazil, in the Cerrado, Caatinga, and Eastern highland Campo Rupestre, with a special focus on the arid and xeric flora of the region, especially cacti. I am a postdoctoral fellow at the São Carlos University (UFSCar) through a FAPESP grant to work with Dr. Evandro M. Moraes, who has made great contributions in the last decades to understand the patterns and processes of plant diversification in the open arid ecosystems of Brazil, such as Caatinga, Cerrado and Campo Rupestre. We are investigating the imprints of hybridization in the diversification history of the facheiros' cacti (Pilosocereus spp.), and the climatic and edaphic niche evolution of the group. Stay tuned for more about it soon!

How Matias got interested in the botanical sciences:

I was raised in the Rio Grande do Sul, the southernmost state of Brazil, on the border with Uruguay and Argentina. Growing up in an ecotone zone of subtropical grasslands and forests, I remember being interested in knowing the name of the plants around my home since I was a kid. I have a lot of memories of accompanying my dad in planting trees in our neighborhood, and insistently asking him about the name of each plant we were seeing on road trips. Little by little I was learning, and then I got really surprised when I realized that each plant had a traditional use associated with it, such as food, medicine, fiber for artifacts, wood, and melliferous, for example. That impression is basically what still guides and keeps me continuously interested in plant biodiversity and its importance for humans and all living organisms.
I think from that background to pursue a career in botany was a natural way. I first went to a professional school to learn about technical activities related to environmental management, and then quickly moved to the Biology college. During my college, I attended with great interest the Botany classes, and soon started to work in outreach activities promoting the local floral biodiversity, and acting as a monitor in Botany courses. In parallel, I started to serve as a volunteer in a local NGO with strong environmental activism in public spheres and in several educational activities, always relating our knowledge about the local flora and promoting biodiversity conservation.
I have had several great mentors during my short career so far who inspire me to keep on my way, but Dr. Paulo Brack and Dr. Valdely Kinupp had prominent roles in inspiring me to be a botanist, with great enthusiasm to talk, teach and learn about plants, promoting their sustainable use as a strategy for conservation. I then got inspired by this passion, finding my own, and have tried to integrate different perspectives and approaches to document and conserve plant biodiversity.

Matias's advice for those just starting their botanical journey:

Enjoy and spend as much time as you can learning about the most diverse aspects and approaches of plant biology to discover which one fulfills you more. Don't be afraid to go over boundaries and make contacts to form collaborations or reach mentors who could be important in the topic you are interested in. Science is made by people, and collaborations, networks, conferences, and workshops are super helpful to meet and get to know people and advance in your journey.


Matias's other passions:

"I am always trying to enjoy my time with my daughter, hanging out in nature, walking in parks, playing some games, reading books, or talking about some stories. I think if I had to choose to not be a botanist, I would like to be a tennis player - I am addicted to tennis, and really enjoy spending a lot of time on the court playing intense battles, or watching some nice matches, firstly from Guga Kuerten, then Federer, Nadal, Djoko, and now Alcaraz."
Click here to return to BSA Spotlight Series homepage.