---
Congratulations to our Grant Winners:
2022
Sara E. Hansen, PhD Student, Earth and Ecosystem Science, Central Michigan University
Rhea Ewing, Visual artist, RheaEwing.com
Anna K. Monfils, Professor and Director of CMU Herbarium, Department of Biology, Central Michigan University

For the Proposal: Creating Inclusive Resources for Botanical Science Education
Diversity in roles, backgrounds, and perspectives among scientists is necessary for twenty-first century, globally integrated science. Groups that have been historically underrepresented or excluded from science, including gender-diverse members of the LGBTQIA2+ community, often do not see themselves reflected in botanical research and education. This can negatively influence their self-perception and development of science identity and decreases their likelihood of pursuing a career in botany. In an effort to support emerging gender-diverse scientists, we aim to create educational materials that embrace individual identities and engage students in the process of botanical science and discovery. The support we receive through BSA's and ASPT's Botanical Advocacy and Service Grant will help us create and disseminate open-access modules that harness the power of illustrated storytelling in support of botanical science education. We will tell the stories of a diverse set of individuals working on a real collaborative project centered around at-risk prairie fen habitats, an endangered butterfly, and co-evolution of plants and animals. Students will have the chance to connect with the artwork and storytelling to center themselves in the science process. Students will be introduced to botanical concepts and core data skills while viewing botanical science through an inclusive and accessible lens. The modules will be available as Open Education Resources hosted on the Biodiversity Literacy in Undergraduate Education (BLUE) repository on QUBES Hub. The materials we develop with the support of this grant will serve as stepping stones toward further initiatives that merge illustrated storytelling, identity, and the process of botanical science.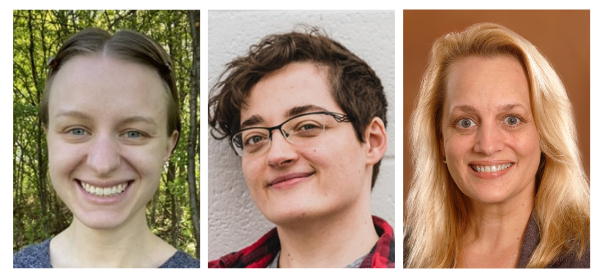 ---

2021

Rocío Deanna, University of Colorado-Boulder, on behalf of the ARG Plant Women team, For the Proposal: ARG Plant Women Network

The Argentinian (ARG) Plant Women network gathers Argentinian women scientists working in plant science in the country and abroad, creating a much-needed networking space for all its members and the broader community. Our activities include weekly virtual seminars to promote the work done by women botanists, and monthly professional development webinars that offer training opportunities for students in the life sciences and beyond. In addition, we are involved in conference events and workshops, including participation at the Botanical Society of Argentina meeting and the Global Plant Council webinars. Thanks to the Botanical Advocacy Leadership Grant we will acquire tools we consider necessary to make this network and our activities grow larger such us a Zoom account, an organizational web domain, and MailChimp email services. In sum, ARG Plant Women will continue providing a safe space for women scientists to share their work, build collaborations, take part in training activities and collectively advance their careers, as well as encouraging Spanish-speaking botanists to pursue their goals in science.

To know more about this network and its coordinators visit: https://argplantwomen.weebly.com/english.html


Karolina Heyduk, University of Hawaiʻi at Mānoa, For the Proposal: Hawaiian Culture and the Herbarium
The Joseph F. Rock Herbarium at the University of Hawaiʻi at Mānoa holds ~55,000 preserved plant specimens, the majority of which are native and endemic to Hawaiʻi and other Pacific islands. The herbarium houses a wealth of scientific information in the specimen sheets, but natural history collections are also the byproduct of social, colonial, and often racist histories. Through this award from the Botanical Society of America, the herbarium will be able to create a series of public-facing displays to connect specimens in the herbarium to the natural history of the Hawaiian islands, the culture, history, and identity of Kanaka ʻŌiwi, and the history of the collection in its colonial context. This fixed exhibit, through rotating displays, will explicitly focus on connections between western science, natural history collection, and Hawaiian and Pacific Islander culture, and continue to promote the intersection of native plants and peoples in a highly Hawaiʻi-specific context.
Carolyn Mills, California Botanic Garden/Claremont Graduate University, For the Proposal: Promoting Indigenous Co-management of Federal Lands in the Nopah Range


---
2020
Nina House, Rancho Santa Ana Botanic Garden, For the Proposal: Assessing Grazing Impacts on Remote Montane Meadows in the Sourthern Sierra Nevada, Tulare County, California

The southern Sierra Nevada has experienced disturbance in the way of grazing for the past 150 years. This practice has impacted all major montane and subalpine meadows in the area. It is often difficult to assess the consequences of grazing on meadow health, as impacts can vary depending on the timing, duration, and intensity of use. Knowing the types of data to collect and who to approach with concerns can make all the difference in effectively managing grazing of montane meadows.

As a graduate student at the California Botanic Garden, I am currently conducting an inventory of the vascular flora of the Manter and Salmon Creek watersheds, a 132 sq km section of the Kern Plateau in the southern Sierra Nevada. Some of the site's main features are expansive montane meadows, such as Big Meadow, Horse Meadow, and Manter Meadow. With the assistance of the Botanical Advocacy Leadership Grant, I will invite an expert or working group acquainted with policy, land management, and science to my study site. With their expertise, I hope to strengthen my skills in collecting the proper data to assist in guiding management surrounding montane meadows. I also hope to receive guidance in how to move forward if the grazing is deemed detrimental to the landscape. Finally, I am eager to learn how data from projects such as mine can inform policy at higher levels of government, and how it may guide future management of protected and non-protected areas.
---
2019
Else Schils, University of Guam, For the proposal: Bringing Biocultural Diversity to the forefront of the Political Agenda in Guam
---
2018
Roland Eberwin, Carinthian Botanic Center Region Museum of Carinthia, Austria
Like many small organizations who have repeated discussions of closure, the Carinthian Botanic Center's ability to communicate botanical topics is an essential part of its work. Communicating effectively not only disseminates botanical information, but also builds up a stable community of fans aiding in discussions about function and necessity of the institution.
This year's prize was used to bolster communication by supplying the institution with a modern camera that, when accompanied by special lenses, allows audiences to be able to see plant and plant parts on screen without having to pass around samples. The ability to easily experience the specimens as never before has been a success and helped the organization remain relevant to its community.
Click here for the entire Plant Science Bulletin Article, his article starts on page 148.
---
2017
Mike Dunn, Cameron University, Award used for Southwest chapter of the Oklahoma Native Plant Society to help fund a lecture series.
The goal of this grant is to bring together as many of the institutions and organizations in southwestern Oklahoma who are at least in part like-minded in that they attempt to use plants to enhance the quality of life of the region. And to use plants as they relate to natural history, anthropology and archeology, horticulture and agriculture, as well as plants as an excuse to simply get outside.

Click here for the entire Plant Science Bulletin Aricle, his article starts on page 4.